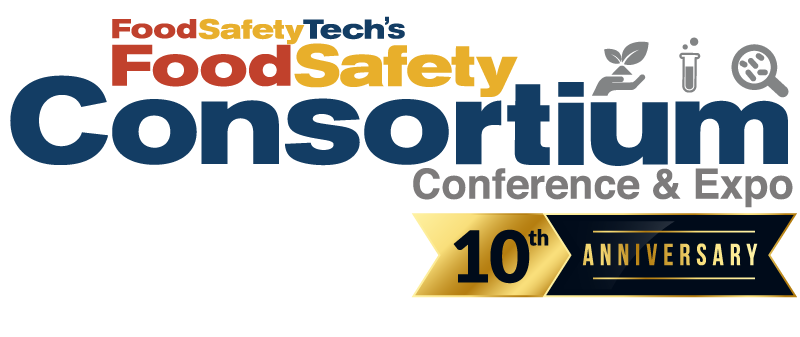 October 19-21
The Hilton, Parsippany, New Jersey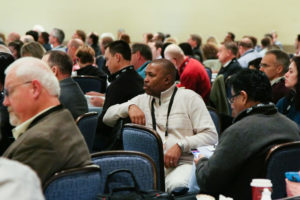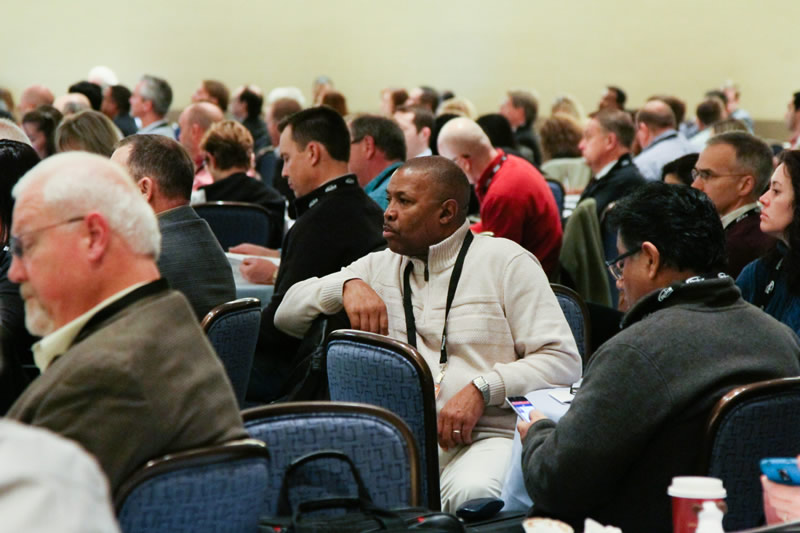 "COVID-19's impact on the food safety community has been significant and its impact will continue to be felt for years," said Rick Biros, president of Innovative Publishing Company and director of the Food Safety Consortium."
"The goal now is not to get food safety back to 2019 levels but to build it better. These issues must be discussed among peers and best practices must be shared, something you can't do virtually. This year's in-person event is designed to help facilitate this much needed critical thinking and meeting of the minds."
Human connection is so important for events. Whether it's a random connection in a hotel lobby, a stroll by a booth at a trade show or a seat next to a new friend in a learning session – connecting with others is what makes events so valuable. You'll find all that and more if you join us in New Jersey.
2022 Program
The 2022 program will feature panel discussions and concurrent breakout sessions intended for mid-to-senior-level food safety professionals that address important industry issues, including:
C-Suite Communication
Employee Culture
What is the State of Food Safety and Where is it Going?
A Consumer Centric Food Safety Conversation
Audits: Blending in-person with Remote
Quality 4.0: Data Analytics and Continuous Improvement
Digital Transformation of Food Safety & Quality
Technology: How Far is Too Far?
The Days FSQA Folks Fear the Most
FSQA's Role in Worker Rights and Conditions
Analyzing and Judging Supplier's Human Rights and Environmental Records
New Trends in Food Fraud
Diversification of Supply Chain Capacity
Product Reformulation Challenges due to Supply Chain Challenges
Traceability
Preparing the Next Generation of FSQA Leaders
Food Defense & Cybersecurity
Food Safety and Quality in the Growing World of e-commerce
Quality Helping Improve Manufacturing Efficiency with How Does Quality Show Value to the Organization?
The event will also feature special sessions led by our partners, including the Food Defense Consortium, GFSI, STOP Foodborne Illness and Women in Food Safety.
Jason Bashura, Sr. Manager, Global Food Defense, PepsiCo
Mitzi Baum, CEO, STOP Foodborne Illness
Peter Begg, Vice President Quality and Food Safety, Hearthside Food Solutions
April Bishop, Senior Director, Food Safety, TreeHouse Foods
Deborah Coviello, Founder, Illumination Partners, LLC
Darin Detwiler, PhD, Assistant Teaching Professor/Director, Regulatory Affairs of Food & Food Industries Program, Northeastern University
Elise Forward, President, Forward Food Solutions, LLC
Melody Ge, Food Safety & Quality Assurance Director, StarKist
Tia Glave, Founder & Principal Consultant, Tia Glave Consulting
Jorge Hernandez, Vice President, Quality Assurance, The Wendy's Corporation
Jill Hoffman, Director, Global Quality Systems and Food Safety, McCormick & Co., Inc.
Don Schaffner, PhD, Extension Specialist in Food Science and Distinguished Professor, Rutgers University.
Erica Sheward, Director, GFSI, The Consumer Goods Forum
Steven Sklare, President, Food Safety Academy
Gary Smith, Vice President – Quality Systems, Gourmet Foods and Gift Baskets, 1.800.FLOWERS.COM, INC.
Shawn Stevens, Founder, Food Industry Counsel
Jill Stuber, President, The Food Safety Coach
Trish Wester, Founder, Association for Food Safety Auditing Professionals
Our Advisory Board consists of distinguished members of the food industry who play an active role in educating industry professionals about the importance of food safety. Complete list.
Food companies are concerned about protecting their customers, their brands and their own company's financial bottom line. The term "Food Protection" requires a company-wide culture that incorporates food safety, food integrity and food defense into the company's Food Protection strategy.
Food Safety + Food Integrity + Food Defense = FOOD PROTECTION
​Organized by Food Safety Tech, the Food Safety Consortium Conference has been an educational and networking event since 2012 for Food Protection that has food safety, food integrity and food defense as the foundation of the educational content of the program.
With a unique focus on science, technology, best practices and compliance, the "Consortium" features critical thinking topics that have been developed for both industry veterans and knowledgeable newcomers.

Two Events Back-to-Back:
The Food Safety Consortium is co-located with the Cannabis Quality Conference, which will take place October 17-19, 2022.

Exhibit and Sponsorship Opportunities
Reserving your booth and sponsorship is a sound business decision. The Food Safety Consortium Conference gives sponsors new and innovative tools for face to face lead generation. With limited space for exhibits, get exclusive access to hundreds of attendees, interact with participants and reserve a spot for your business today before they sell out.​
Food Safety Consortium Conference
We Care about Your Health and Keeping You Safe
The Food Safety Consortium Conference, is dedicated to keeping you safe as we embark in this renewed process of getting back together in hotels spaces. As part of our commitment to your safety, we have done a lot of work in preparation to welcoming you to our first in person event, after these past two years.
In preparation, we have:
Polled our audience on their comfort level about attending In-person events.
75% of our respondents who were senior level FSQA professionals said that they would feel comfortable attending in person events but:
They preferred driving to the conference
If they had to fly, they prefer the venue close to a major airport.
Or accessible via train
A small conference setting not in a convention center
With some of those responses in mind, we have scheduled our event at a centralized location, that can be easily reached via driving or a quick train ride. For those who are comfortable flying, we are also easily accessible to Newark Liberty Airport (within 30 minutes). Registration is limited to 250 attendees.
We will also be conducting daily kitchen inspections with one of our Food Safety Inspectors to ensure we are all healthy!
Our hotel location offers participants plenty of free parking and outdoor space, as well as the following precautions:
No table linens at any of our meeting rooms
Individualized water station to minimize contact
Butler serviced coffee stations to minimize contact
Individualized meals (grab and go)
Hotel offers PURE rooms that are equipped with air purifiers and are allergen free
Hand sanitizer stations throughout the facility
We will provide face masks for all participants that desire them
We will also provide individual hand sanitizers with each registration
We look forward to getting together in-person once again!
2021 Attendee Companies & Testimonials
ADM
Agrobiotek El Salvador
Ahold Retail Business Services
American River Nutrition LLC
AsahiKasei
Athletic Brewing
Bayer CropScience
Bimbo QSR
Brett Anthony Foods
Brinker International
Cameron Melendrez
Cargill
CG ROXANE LLC
Clemson University
Coca-Cola Cómpany
Cocoa Processing Company Limited
Colorado Department of Agriculture
Compass Group
Conagra Brands
Costco
Costco Wholesale
Crystal Geyser
Dr. Greenhouse Inc.
Durham Pecan Company
Eastman Chemical
EJ Papadopoulos SA
Elite Spice Inc.
EY
FDA
Federal Bureau of Investigation
Feeding America
Fiesta Mart
Flagstone Foods
Flavorchem Corporation
Food and Drug Administration/Office of Food Policy & Response
Glanbia Nutritionals
Global Food & Nutrition Inc.
Golden Peanut and Tree Nuts
Golden State Foods
GRALCO S.A.
greenville agro corporation
Griffith Foods Ltd.
Gsf Egypt
Handi Foods Ltd.
Hills Pet Nutrition
Honee Bear Canning Co
Hydrite Chemical Co.
IFC
Institute of Food Technologists
ISE America
JTM Food Group
Kalsec
Kalsec Europe
Kalsec Southwest
Kampala Serena Hotel
Kellogg Company
Kemin Industries South Asia Pvt ltd
Kraft Heinz
Lamb Weston
Leyton USA
Manitoba Harvest
MAPAQ (Quebec's Ministry of Agriculture)
McKee Foods Corporation
Morinaga America Foods Inc
Nation Pizza
New Aces Pecan Company
NOAA
Northeastern University
NOW Heatlh Group, Ic.
Oracle
Packaging Corporation of America
Peppo Foods
PepsiCo
Pinnacle Management Systems
Pro Citrus Network, Inc.
Quaker Oats/PepsiCo
QueensBake
Reser's Fine Foods
Retail Business Services/Ahold Delhaize
Rise Baking Company
RIVIANA FOODS
Saputo
Sargento Foods, Inc.
Sesaco Corporation
SFDA
Smithfield Foods
Southwest Cheese Company
Starbucks Coffee Company
Steuben Foods, Inc
Supherb Farms
SuterPharm
Texas Department of State Health Services – Foods Group
The Cheesecake Factory
The Kroger Co. / Vitacost.com, Inc.
The Suter Company
The Wendy's Company
The Wine Group
Torres Trading Co., Inc.
TreeHouse Foods
Trophy Foods
Turkey Hill Dairy
VA Department of Agriculture
Village Gourmet Company Inc
Walgreens
Walgreens Boots Alliance
Walgreens Supply Chain
WBA
Westberry Farms Ltd
White Castle
"Thought the speakers were awesome and my colleagues were chatting me they got a lot out of the sessions too. Great start!"
"A great experience – today's final panel echoed many of my thoughts and did a super job of headlining the 'take-aways'. I too am left 'craving for more' so intend to revisit some of the episodes. Well-balanced, varied, huge amount of information transfer, important messages and trends were highlighted throughout the 16 episodes with both breadth and depth and honest insights. The facilitators did a fab job – I think – and throughout there was a familiarity and 'inclusive' feel to this consortium. Well done!"
"I enjoyed the Food Safety Culture Fireside Chat and all their experiences on food borne illnesses, and how COVID19 is playing a big part in the plant facility."
"This episode was great! I feel more confident in my ability to put together a food fraud vulnerability assessment for my facility."
"Appreciated the honesty of several accounts given by today's speakers"
"I agree that Frank Yiannas has been an inspirational leader in the public sector. I'm grateful for his leadership."
"Thank you for the information, insight, and resources! Very well done."
"Great job to all. Extremely interesting."
"Women in Food Safety Path to Leadership – Thought the speakers did a great job – especially need to keep being relevant and about confidence."
"I understand much better what a biofilm is and how it impacts cleaning activities and the need for stringent practices."
"The speakers had such honesty and compassion."
"I think there's a great mix of subject/speakers. Particularly enjoying those who are candid about own experiences…as Rob was."
"Great information. Rob Mommsen's presentation was eye-opening!"
"Overall I really enjoyed this episode and found it very informative!"
"It is comforting that all of us are going through the same trials during this covid times"
"I got information on different chemicals/sanitizers/disinfectants. I now know that we have some "safer" options for our employees to use."
"I've enjoyed all episode's of the Virtual Consortium thus far."
"It was interesting to hear that all sectors of the food industry have surprised themselves in what they have been able to accomplish since the onset of the pandemic. The episode increased my awareness of how much more work there is to be done in creating test kits to improving risk based management and in making use of technology to better trace food items throughout the food chain."
"It is particularly helpful to hear perspectives from a range of industry professionals across the public, private and non-profit sectors so thank you for all of the participants you lined up for today's sessions, in particular."

Stay Up To Date
Stay informed with announcements about the event, pricing, hotel deals, speaker additions and more when you sign up for the Food Safety Tech newsletter here.